You can find the Haslewey Hair Design Studio within our community centre. Our expert team of hairdressers use the latest techniques to keep your hair looking fabulous.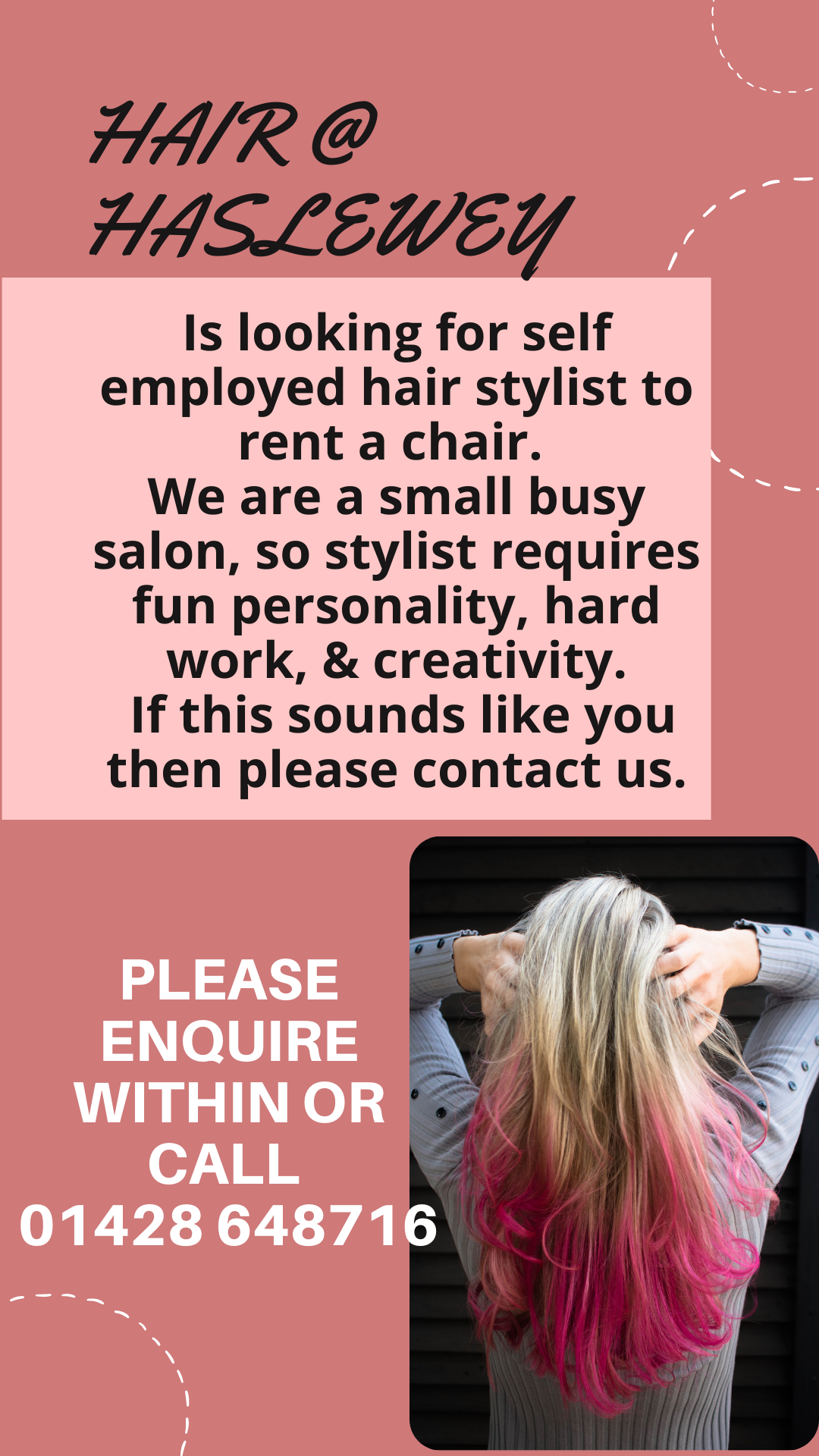 You can individually contact our experienced hairdressers to book your appointment:
Lisa: 07834 619957
Nicky: 077460693187
Cathie: 07985 177477
We offer several services, including blow dry, ladies' and men's cut, children's cut, tint and much, much more.
If you would like to know more, please see our list of prices and full services below.
| Service | Price |
| --- | --- |
| SHAMPOO & BLOW DRY SHORT | £25.50 |
| SHAMPOO & BLOW DRY LONG | £28.50 |
| SHAMPOO & SET | £24.50 |
| SHAMPOO ONLY | £10.00 |
| LADIES CUT (DRY) | £27.50 |
| LADIES SHAMPOO & CUT | £31.00 |
| RE-STYLE | BY QUOTATION |
| MEN`S CUT (DRY) | £18.50 |
| MEN`S SHAMPOO & CUT | £25.00 |
| CHILD CUT UNDER 11`S | £18.50-£25.00 |
| CUT, SHAMPOO & BLOW DRY SHORT | £45.00 |
| CUT,SHAMPOO & BLOW DRY LONG | £48.00 |
| CUT, SHAMPOO & SET | £42.50 |
| PERM, CUT, SET OR BLOW DRY | £79.50 |
| 1/2 HEAD PERM | £68.50 |
| FULL HEAD TINT INC SET OR BLOW DRY | £68.50 |
| FULL HEAD HAND WOVEN FOILS INC SET OR BLOW DRY SHORT | £98.50 |
| FULL HEAD HAND WOVEN FOILS INC SET OR BLOW DRY LONG | £99.50 |
| 1/2 HEAD HAND WOVEN FOILS INC SET OR BLOW DRY SHORT | £86.50 |
| 1/2 HEAD HAND WOVEN FOILS INC SET OR BLOW DRY LONG | £88.50 |
| T SECTION INC SET OR BLOW DRY SHORT | £77.50 |
| T SECTION INC SET OR BLOW DRY LONG | £80.00 |
| CAP HIGHLIGHTS INC SET OR BLOW DRY | BY QUOTATION |
| DEMI-GLOSSING INC SET OR BLOW DRY | £63.00 |
| DEMI-GLOSSING INC SET OR BLOW DRY LONG | £67.50 |
| BEARD TRIM | £5.00 |
| FRINGE TRIM | £5.00 |
| CONDITIONING TREATMENTS | £8.50 |